The first time I saw the ocean, I was 22. I had moved to Charlotte, NC the month before and now we were spending our honeymoon at Myrtle Beach. It was gorgeous. Since it was January, the water was too cold to go swimming but I knew we would be back again. I took alot of photos. This was before the age of digital cameras and my two year old son at the time pulled all the film from the roll. I was quite upset but what can you do?
We returned when my second son was about two. Here he is checking out one of the seagulls.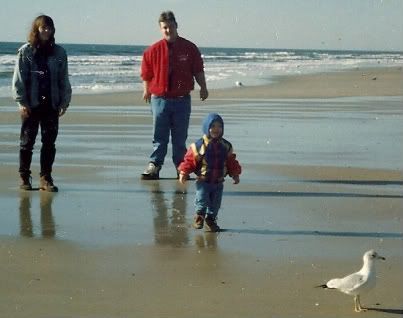 A few years later, my sister came to visit. She had never been to the ocean so we went again. We almost didn't make it. The fuel pump in our car went out. Luckily my hubby is a mechanic, so he found a shop and the kind owner let him fix the car there. In the meantime, my oldest son found an ant hill and got bit up by ants. Finally after a few hours, we were at the beach.
Here I am with my niece and my youngest, at the time, Robert.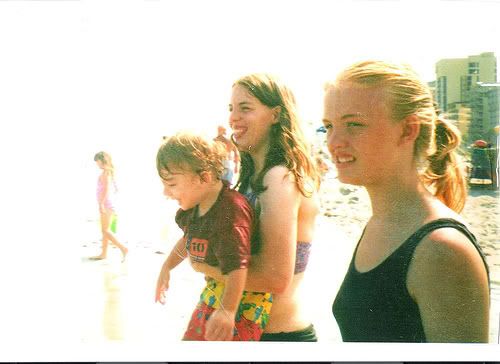 William making a sand castle.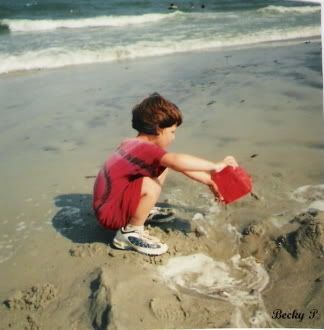 Robert and I playing in the sand.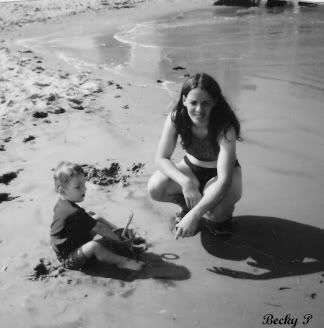 On the way back from this trip, the lights in our car went out. The window also fell down. It certainly was a trip to remember.
linking to Jenny Matlock